Brighten Up Your Life with Professional Light Fixture Cleaning Near You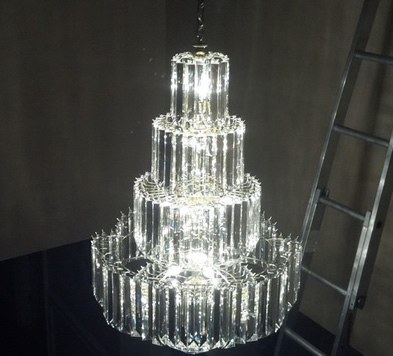 Do you remember a time when your home seemed bright and well lit? Over time it seems like our lights just don't shine so bright. This is true for both residential and commercial lighting. Sometimes, the lack of light from your fixtures can inspire you to replace them, spending lots of unnecessary money. What if we told you that it may not be necessary to replace your light fixtures when they start looking dim? For many home and business owners, the answer to dim lighting, is a quality, professional cleaning of their light fixtures.
Why Do My Fixtures Look Dim?
Even if you have a super clean home or business, over time the glass in your light fixtures can build up dirt and grime or other things like air freshener and cleaning product residues. In some cases, this film is hard to see, and may not even be noticeable, but you may notice it by how little light your fixtures put out. Many of our clients think that their only solution is to purchase new light fixtures or buy higher and higher wattage light bulbs. They are often surprised to learn that spending more money on bulbs and fixtures won't solve their problem, but a good cleaning will.
How Does Fixture Cleaning Help?
Having a professional clean your light fixtures is an investment in your home or business. Removing film from the glass allows plenty of light to shine into your rooms or on your sidewalks and driveways. Sometimes this film can be sticky and doesn't come off easily, so a professional cleaning will help you get through the tough dirt and grime leaving the glass in your fixtures looking great. We don't stop with just the glass in your fixtures. This film of dirt and grime will also build up on the non-glass parts of your light fixtures. Over time, dirt and grime can leave metal looking dingy and can even damage plated metal such as bronze or brass. Professional cleaning will shine up and thoroughly clean every part of your light fixtures, leaving them looking new again, and allowing plenty of light to shine through.
Why is Professional Better?
Of course, cleaning light fixtures does seem like an easy job. You might be tempted to take on the task yourself. But what about that high chandelier in your entryway, or the antique fixtures in your historic home or office building? Do you really feel comfortable tackling those on your own? Professional glass cleaners come with an arsenal of tools and cleaning products for every type and age of fixture and the right products to treat even the most delicate of fixtures. Not only do we have the right cleaning tools, but we also have the right equipment to reach the highest fixtures in your property, so that we are safe and your fixture is protected.
Professional glass cleaning can make an amazing difference in the brightness of your home and business. It can also make a difference in your home and office repair bills and electric bills. Keeping your light fixtures clean and free of dirt and grime is the easiest way to bring new light to your world.
For More Information on Professional Light Fixture Cleaning Services Near You
D & H Window Cleaning has been helping Metro Detroit home and business owners realize the benefits of clean light fixtures for over 40 years. Our professionals are dedicated to helping our clients have clean and beautiful homes and businesses. If your light fixtures could use a little shine, call us today to schedule a free estimate for light fixture cleaning and window cleaning services near you.