Winter is Coming To Metro Detroit: Schedule Your Fall Gutter Cleaning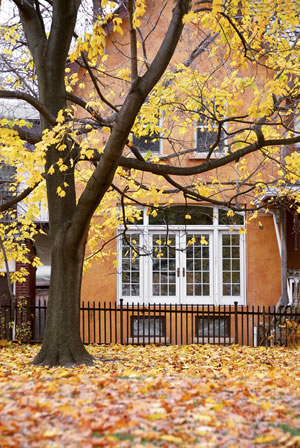 Clean gutters are important for protecting your home's siding, roof and foundation. Gutters move water away from your home, so when they are plugged and don't work right, you risk damaging your home, and causing hundreds of dollars in unnecessary repair bills. Fall is arriving quickly and soon leaves will be falling, and then the snow and cold of winter will be here. Before the winter arrives, and when your trees are bare, get your gutters cleaned.
 Fallen Leaves = Big Problems
Fall is a beautiful time of year. So many people love the vibrant colors of the changing leaves, and there is nothing more fun than crunching through piles of fall leaves. However, the beauty of fall can wreak havoc on your home's gutters. As leaves fall from the trees and accumulate on your sidewalks and yard, it's easy to think about and manage the ones that you can get to easily. Cleaning up fallen leaves is a standard yard care project for most homeowners. But what about the ones that end up on your roof and in your gutters? These leaves can cause huge problems for your gutters. Even one season of leaves can fill your gutters, block downspouts, and create blockages of water in your gutters. This can result in damage to your gutters or even worse, water that seeps between your siding and roof, causing major damage to the structure of your home.
 Heavy Weight
Wet leaves weigh a lot. So, when they build up in your gutters, they can place undue pressure and weight on your gutters. Gutters are not meant to handle constant weight from heavy, soaked leaves. They work best and last longest when they are cleaned regularly and are allowed to move water freely from your roof. When the leaves of fall build up in your gutters they take on weight that gutters cannot handle. This means your gutters can sag or even come unattached from your roof or the side of your home, from just the weight of some dead leaves. Combine that with the weight of snow and ice, and you have a recipe for disaster.
Rapid Aging
Most gutters today are designed to last for a set amount of time, based on the type of material they are made of. In most cases, gutters are made from aluminum. While aluminum is relatively durable, it isn't immune from damage caused by standing water. When leaves and material build up in your gutters, blocking the flow of water, the resulting standing water can cause big problems. Rain and snow mixes with decaying leaves and the dirt and debris that come out of the air, creating a soup of water that can easily eat away at aluminum gutters over time. Keeping your gutters clean means you don't have to replace your gutters before you anticipate and before their projected life is over.
Overflow
When your gutters are full of junk and they don't move water correctly, you end up with water that flows over the top of the gutters. This can cause you big problems from standing water along your foundation, and can cause icy spots on your sidewalks. Ice around your foundation can cause cracking and allow water to seep into your basement or crawl space. This can be a huge problem in the spring and summer when mold likes to grow.
Keeping your gutters clean is an important part of protecting the investment you made when you purchased a home. The reality is that this maintenance task is a reasonable way to protect your home from water damage and keep your sidewalks and home interior safe and healthy.
Searching For The Best Gutter Cleaning Service in Metro Detroit?
Before winter is here, make sure you schedule your gutter cleaning with D&H Window Cleaning. Our professionals will get your gutters and downspouts clean, and ready for the snow and ice of winter. To schedule an estimate or to learn more about how we can help you with home and business maintenance needs, call us today at (586) 726-2340.