D&H Window Cleaning has been family owned and operated, servicing southeast Michigan since 1969. We specialize in residential window cleaning and take extreme measures to ensure we complete the job safely. With over 45 years of experience, we know all the ins and outs of the window cleaning industry. Our highly trained employees will show up on time, in a marked vehicle ready to work. Our employees are equipped with all the right tools needed to properly complete any job including shoe covers and drop clothes that they use to protect your home. We take a great amount of pride in our work and respect your property as our own. Your satisfaction is our goal and the decades of experience we have in the industry helps us guarantee that satisfaction.
D&H Window Cleaning will carefully hand wash each and every window in your home. Regular professional window cleaning helps prevent window damage from acid rain and hard water spots. Using mild, biodegradable, USDA approved solutions and professional grade equipment you can rest easy knowing that all your windows and skylights are sparkling clean and damage free.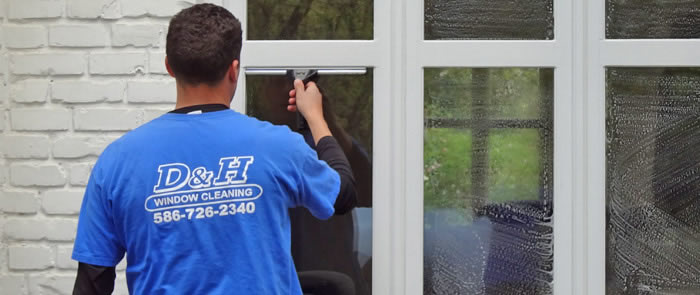 D&H window cleaning has a proactive approach towards safety and places the upmost priority on the safety of our employees. We are trained and certified by the industry leaders and are constantly seeking new ways to ensure our employees safety. Our industry trained staff is up-to-date on the latest products and techniques as well as safety guidelines. Their training ensures your satisfaction in not only a job well done but also in the knowledge that every precaution is taken to protect your property and their own safety while on location. D&H Window Cleaning is dedicated to providing quality workmanship and dependable service. Call us today to get your windows sparkling clean.