With over forty five years of experience in gutter cleaning, we know what it takes to get your gutters working properly and take extreme measures to ensure we complete the job without damaging your home and gutters. We take a great amount of pride in our work and respect your property as our own. Your satisfaction is our goal and the decades of experience we have in the industry helps us guarantee that satisfaction. Our highly trained staff will clean out the accumulated debris and properly bag it for disposal. We will also clean up any debris that may fall on the ground, porches, driveways and decks. We check each downspout to ensure water can properly flow away from your home. Proper functioning gutters are crucial to the integrity of your home. Failing to clean gutters regularly leads to costly roof and wall damage from ice dams. A little preventative maintenance goes a long way in protecting the value of your home.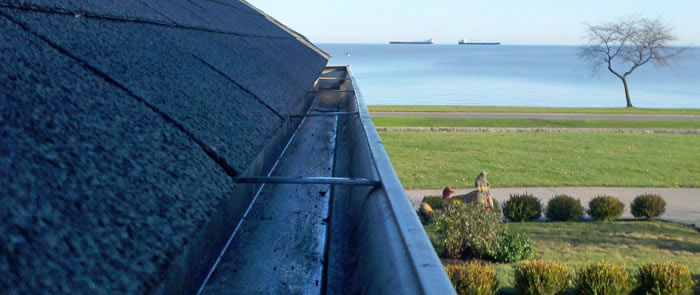 One of the most dangerous jobs is the annual cleaning of the gutters. Homeowners often use the wrong ladders or unsafe techniques leading to their own injury. Our professionals employ the greatest care in creating a safe work environment for themselves and for the client. This ensures that no one is injured while cleaning is being performed.
D&H window cleaning has a proactive approach towards safety and places the upmost priority on the safety of our employees. We are trained and certified by the industry leaders and are constantly seeking new ways to ensure our employees safety. Our industry trained staff is up-to-date on the latest products and techniques as well as safety guidelines. Their training ensures your satisfaction in not only a job well done but also in the knowledge that every precaution is taken to protect your property and their own safety while on location. D&H Window Cleaning is dedicated to providing quality workmanship and dependable service. Call us today to get your Gutters cleaned!